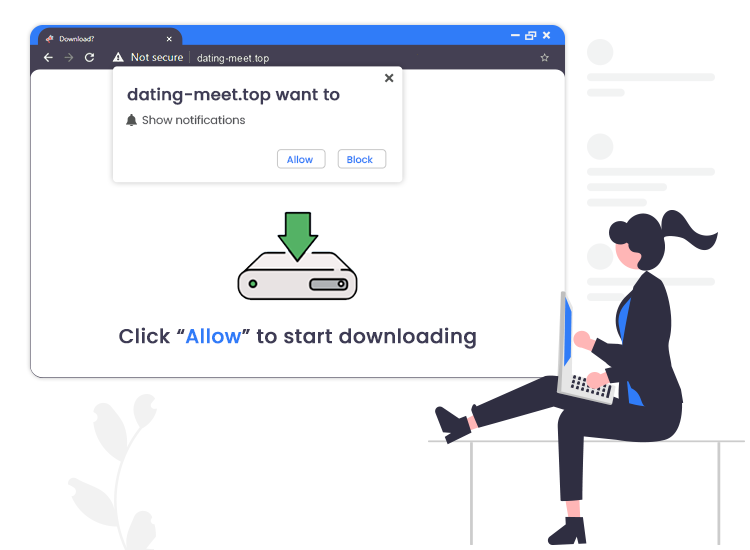 Dating-meet.top pop-up ads come from an untrustworthy website sharing common traits with Gettingyourcontent.com or Truthwassadl.xyz etc. If you're seeing tons of Dating-meet.top pop-ups during web sessions, you have subscribed to the website notifications service at some point. The appearance of intrusive adverts from the Dating-meet.top page is the result of adware that you unknowingly installed on your PC.
In most cases, the adware (also known as advertising-supported software) gets on users' computers with questionable free programs. Users usually download these from third-party sites. Thus, you must always opt out of unwanted optional programs offered by freeware, otherwise, you will face the above consequences.
To prevent Dating-meet.top from bombarding your desktop screen with annoying pop-up ads and redirecting your browser to various (likely unreliable or malicious) sites, you should block the webpage and get rid of the adware infection. To learn how to do so, follow this guide to the end.
What is Dating-meet.top? 
This is a deceptive webpage that uses social engineering tactics to fool people into subscribing to push notifications. No matter which internet browser you might use, you would see a "Show Notifications" pop-up box as soon as you land on this page. This will ask you to click the "Allow" button. If you subscribe to the page's notifications, you would soon start receiving an excessive amount of ads in the form of pop-ups and shady content (adult sites, survey sites, free online games, unwanted browser plugins, etc.).
The only motive of scammers behind the Dating-meet.top site is to generate revenue by rerouting web traffic to sponsored or advertising-related pages.
How to Remove Dating-meet.top Pop-up Ads from PC?
To block or remove Dating-meet.top ads and notifications from your Google Chrome browser, you can follow the instructions provided below.
First, launch the Chrome browser. Open the Main Menu by clicking the three vertical dots icon, on the right upper corner of the screen. Select the "Settings" option.
Next, go to the 'Privacy and Security' section and select the "Site Settings" option.
Then, go to the 'Permissions' section and select the "Notifications" option
At last, look for the Dating-meet.top URL in the Allow list, click the three dots button next to it. Select the "Remove" or "Block" option.
After successfully removing the Dating-meet.top notifications, run an in-depth scan of your system. Use a strong anti-malware software to automatically remove all visible or invisible malware threats, including adware.