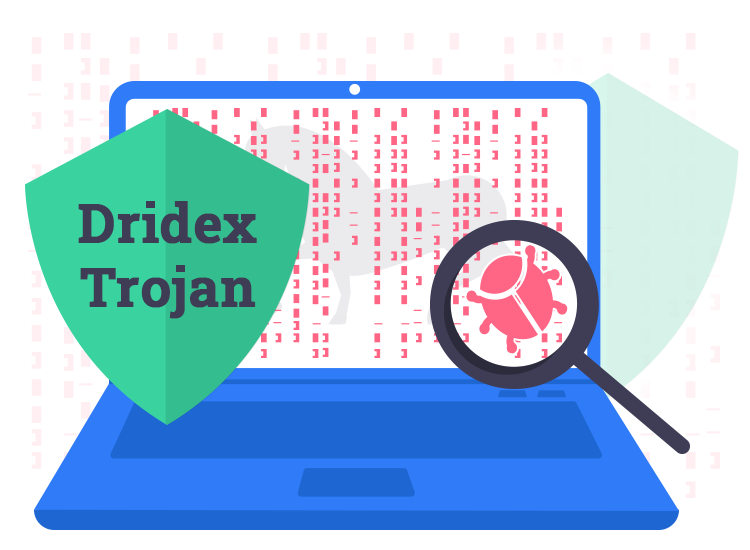 Trojan.Dridex, also known as Cridex and Bugat, is a banking Trojan targeting Windows systems worldwide. First appeared in 2011, Trojan.Dridex was specifically developed by malware authors to steal bank credentials from a targeted system. Nowadays, Dridex is being used as in the early malware attack stages for installing targeted file-encrypting ransomware such as DoppelPaymer and BitPaymer.
Trojan.Dridex: Type and Source of Infection
Trojan.Dridex disguises itself as an authentic system file and then acts as a spy, eyeing victim's banking details, login credentials, browsing history, etc. Cybercriminals launch several spam campaigns containing a malicious Microsoft Word or Excel file which, upon clicking, downloads and installs the Dridex malware into the victim's computer. The primary objective of this Trojan virus is to steal banking information to facilitate fraudulent money transfer.
Trojan.Dridex can be a money-spinning for hackers given its sophistication and is now being used as a ransomware dropper, making it much more deadly than its previous variants.
What Should Be Your Next Move?
As soon as the victim downloads a malicious email attachment, macros from Microsoft Word or Excel file activates and starts corrupting the system files. You may experience frequent redirects to unknown websites while surfing the internet as it is capable of modifying web browser settings.
To make sure the situation does not go downhill anymore, you have to stay away from clicking on the luring online banners or pop-ups. Soon after you realize that some sort of malware infection has entered into your system, you need to start looking for ways to remove it because the longer it stays on your device the worst are the consequences.
Tips to Protect Your Computer from Dridex Trojan
Users need to be cautious of emails with attachments or links present in the body, even if they appear to come from an authentic source – especially with the explosion in working from home over the past six months. Small and large-size enterprises need to be educating employees on how to recognize malicious and spamming emails and deploy security measures to help protect their valuable data and networks against such phishing threats.
In addition to this, you should keep your system protected with a trusted anti-malware and anti-spyware software to crush all sorts of malware infections and enjoy a safer and faster web surfing experience.