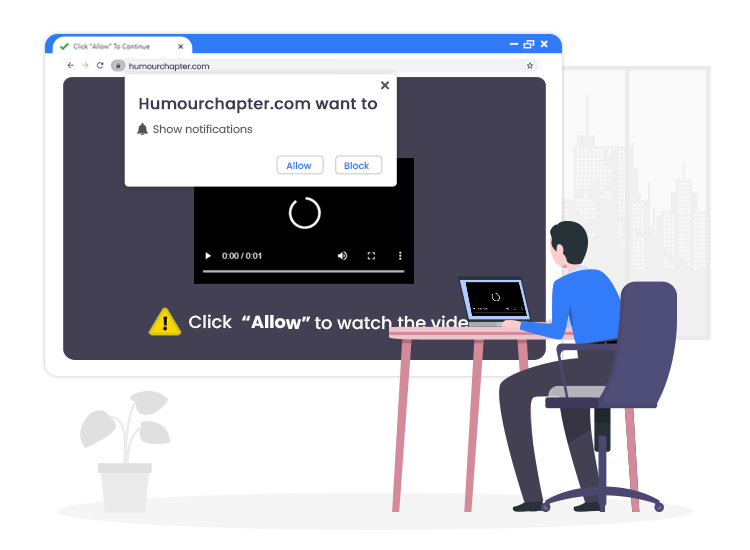 Humourchapter.com pop-up ads originate from a suspicious domain considered as adware. The Internet is rife with such scam/shady sites. Towndomaint.com, Diguver.com, My-live-videos.com are just some examples. The main motive of developers behind such rogue websites is to generate revenue by running intrusive advert campaigns, redirecting users' web searches to potentially dangerous and scam websites, track online activities and gather browsing-related data or other sensitive information.
In order to make this happen, the developers of Humourchapter.com and other similar websites employ a number of social engineering techniques (such as fake CAPTCHA verification, clickbait, etc.) to trick unsuspecting visitors into subscribing to their push notifications service.
Scammers abuse this legit push notification feature to avoid antivirus/ad-blocker software installed in the computer, making it convenient for them to send out a large number of unwanted advertisements directly to the victim's desktop.
If you are also seeing Humourchapter.com pop-ups and notifications on your computer, then you may follow our guide to get rid of the adware infection and remove undesired ads from your browser.
What is Humourchapter.com?
As said earlier, this is a notorious web domain that is designed to load questionable content and/or cause redirects to various other suspicious and advertisement-related pages.
Depending on users' geolocation, the site shows various misleading prompts to lure people into accepting their push notifications via the internet browser. Once accepted, the users start receiving countless pop-up ads in the form of notifications in the lower-right corner of their computer desktop or phone screen.
It's noteworthy that users end up on notorious web domains like Humourchapter.com unintentionally. In most cases, users get redirected to them through malicious advertisements or installed PUAs.
How to Remove Humourchapter.com Pop-up Ads from PC?
Follow the instructions given below to remove Humourchapter.com pop-up ads and notifications from your Google Chrome browser.
Click the three dots button on the top right corner of your Chrome browser window, and select the Settings option.
Next, select the Site Settings option from the Privacy and Security section.
Next, look for the Notification option and click on it.
Under the Allow list, look for the Humourchapter.com URL and click on the three dots button beside it. In the end, click on the Block option.
After the successful execution of the above steps, you are advised to scan your computer with some powerful anti-malware tool to detect and eliminate the remaining adware-type infections.