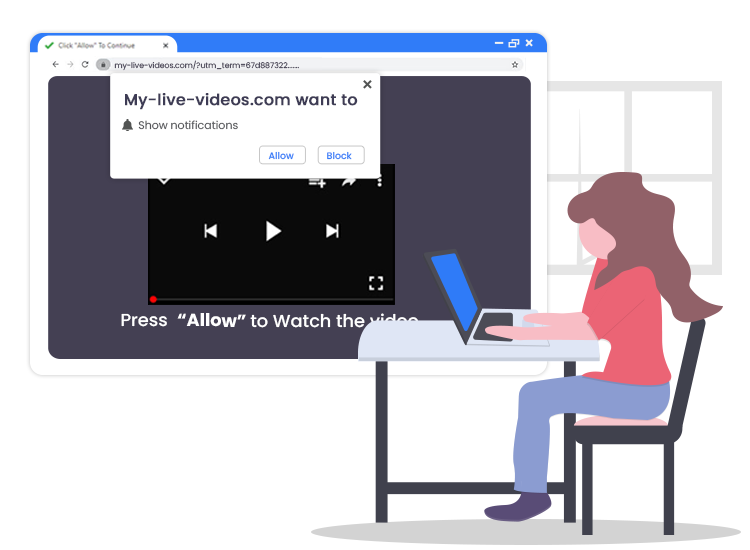 My-live-videos.com pop-up ads come from a rogue website similar to Ourtopstories.com, Shopsalelogs1.xyz, Pizzaday.xyz, Specific-message.xyz, and countless others. It is designed to deceive you and other unsuspecting victims into clicking on the allow button in order to subscribe to their push notifications service.
Usually, push notifications are used by website developers or companies to alert users about the recently published news and other important updates.
However, recently it has been observed that cyber-crime masterminds are abusing the 'push notifications' feature to avoid ad-blocker apps by displaying unwanted intrusive adverts.
If you notice a barrage of My-live-videos.com pop-up advertisements and notifications appearing in the bottom right corner of the screen and urging you to visit dubious web pages, play online games, install unwanted programs, then you may use our tutorial to block them safely.
What is My-live-videos.com?
This is a deceptive web portal that you might encounter while surfing the internet on Google Chrome, Mozilla Firefox, Microsoft Edge, Safari, Opera, or another web browser. This notorious site employs a number of deceptive tricks to deceive users into subscribing to its push notifications.
It displays a "Show Notifications" pop-up dialog box with two options: Allow and Block. When you click on the Allow button, the My-live-videos.com site gets permission to send push notifications and, as a result, you end up seeing tons of annoying pop-ups, banners, surveys links, offers, deals, and other sponsored material in the right bottom corner of the desktop screen.
How to Remove My-live-videos.com Pop-up Ads from PC?
In order to remove the My-live-videos.com pop-up ads from your Google Chrome browser you need to follow the below-mentioned steps:-
Click on the three-dot button from the top right corner of your Google Chrome browser and select the settings option.
Go to the Privacy and Security tab and click on the Site settings.
After that select the Notifications option.
Lastly, click on the button next to the My-live-videos.com website and select the Block option.
Once you are done with all these steps, open a new tab on your browser and see if the problem is resolved or not.
If you are still facing the same issue again then we recommend you to remove all the leftover adware-type infections from your PC. This can be done with the help of strong anti-malware software.