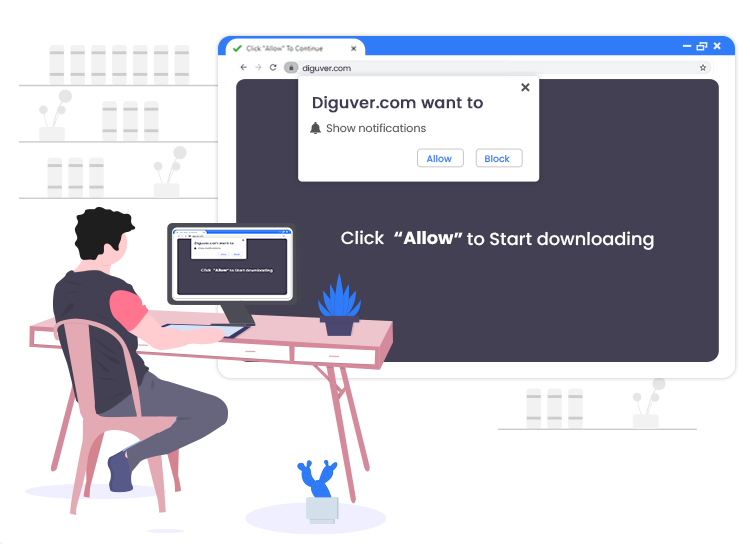 Diguver.com pop-up ads come from a misleading website sharing many similarities with My-live-videos.com, Shopsalelogs1.xyz, Pizzaday.xyz, Specific-message.xyz, and thousands of others. The website is designed by malicious actors with the singular motive of making an illegal profit by delivering countless intrusive ads directly to the desktop and redirecting the browser to scam/shady web pages.
In order to send advertising banners, coupons, deals, and pop-ups directly to the victim's desktop, the scammers behind the creation of the Diguver.com site abuses the push notifications feature due to the reason that it helps them bypass the anti-virus or ad-blocker apps installed on the targeted machine.
If you have recently started getting tons of undesired Diguver.com pop-up ads and spam notifications even if your browser is closed, then it confirms that your system is infected with adware.
You may follow our guide to uninstall the adware infection and remove the irritating Diguver.com notifications from your web browsers.
What is Diguver.com?
Diguver.com is a treacherous website that uses various misleading techniques (such as clickbait) to lure you and other unsuspecting visitors into accepting push notifications via the internet browser. It has been created by a group of malicious hackers with the motive to generate pay-per-click revenue by distributing advertising content to the victim's desktop screen.
In order to mislead users into enabling push notifications, the site shows a "Show notifications" pop-up which states that clicking the "Allow" button is necessary to play a video, download a file, enter the site, and so on.
Once the user clicks on the allow button, the Diguver.com website starts sending loads of notifications and the pop-up adverts in the bottom right corner of the desktop.
How to Remove Diguver.com Pop-up Ads from PC?
Diguver.com pop-ups are capable of disrupting your browsing experience in an intrusive or annoying way. You can follow the steps provided below to delete Diguver.com pop-up advertisements and notifications from your internet browser.
Note: The steps below are applicable for the Google Chrome browser.
Launch your Chrome browser and open the main menu by tapping on the three dots button.
Next, select Settings > Site settings > Notifications.
Click the three dots button next to Diguver.com and other rogue sites that you want to block. Then, click on the "Block" or "Remove" option.
After successfully adding the Diguver.com site into the block list, you can try scanning your whole computer with a powerful malware removal tool to get rid of all the remaining PUAs and adware infections.