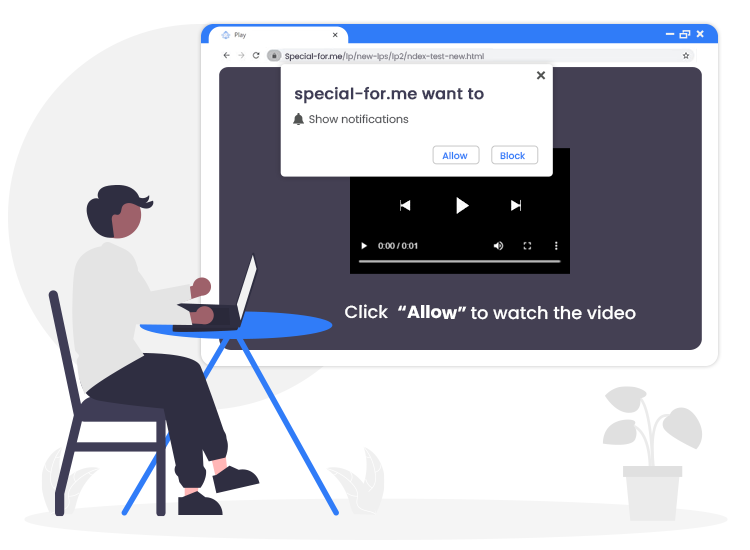 Special-for.me pop-up ads come from a rogue website that uses deceptive techniques in order to trick less tech-savvy users into subscribing to its push notifications service. Although push notifications cannot cause any direct harm to the users, cyber crime masterminds use them to send out a huge number of annoying advertisements in the form of offers, banners, deals, and other intrusive commercial content on the desktop screen. 
More often than not, Special-for.me pop-up advertisements encourage users to play online games, answer surveys, visit adult websites, download suspicious programs, and so on.
If you have subscribed to the Special-for.me push notifications service, then numerous undesired advertisements will constantly appear in the lower right-hand corner of the desktop screen, even if your browser is closed.
Follow this guide to the end to learn how to remove Special-for.me pop-ups and notifications from your web browser.
What is Special-for.me?
This is a precarious domain that loads intrusive commercial content and/or redirects visitors to other (likely untrustworthy or malicious) websites. The internet is full of unsafe domains like Special-for.me: Birthdiscipline.com, Zationtothe.online, humourchapter.com, and Towndomaint.com are a few examples.
The main motive of developers behind theSpecial-for.me website is to redirect web traffic on low-quality websites and earn advertising revenue via the pay-per-click scheme.
When you visit the website, you will see a "Show notifications" pop-up box with the "Allow" and "Block buttons. If you click Allow, then the Special-for.me ads or notifications will start popping up in the bottom right corner of the desktop.
If you're one of the unfortunate users who have accidentally landed upon this deceptive web portal, you're advised to close the page by clicking the "X" icon in the top right-hand corner of the tab.
How to Remove Special-for.me Pop-up Ads from PC?
To get rid of these pop-up ads and notifications from your Google Chrome browser, implement the steps below:
Open Google Chrome.
Go to the top right corner of Chrome and tap on the Customize & Control button (represented by three vertical dots).
Now you have to click on Settings > Site Settings > Notifications.
In the final step, click the three dots button next to the Special-for.me website, and then choose the Remove or Block option.
After executing the above steps, we recommend you perform a full computer scan with a strong and trustworthy antivirus or anti-malware tool to delete all the remaining hidden threats.